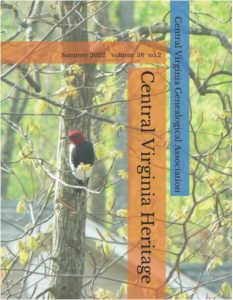 Finding the Freedmen: Records From Louisa County, 1865-1870,
by Elaine L. Taylor
The identity of enslaved people, the names of their parents and siblings, where they came from, the work, and the wounds that filled their lives are extremely challenging to uncover. This book brings together public records and a few family papers containing information about the Freedmen of Louisa County, Virginia, in the years immediately after the Civil War. Many of those sources are now online but sometimes identifying, let alone accessing those online sources, creates another brick wall for many researchers. My experience in assisting people with research in the Louisa County museum convinced me that the most useful format for these records would be to make them available in a single source in print format. The following records are combined and presented in two forms, alphabetically by the Freedmen's names and alphabetically by the names of employers….
To see the rest of this article, CVGA members should go to "Members Only" on the menu bar above, and choose "Central Virginia Heritage — Current Issue." (Note: You have to be logged in to this website in order to see "Members Only.")
If you have trouble logging in to the site to download your copy, please contact me at the webmaster link at the bottom of this page.
For those who are not members of CVGA, we offer the opportunity to purchase a printed copy of each issue. The Summer 2022 issue is available from Amazon.com at https://www.amazon.com/dp/B0B3MXKT29 for $6.50. Click on the Amazon.com link above or search for "Central Virginia Heritage" on Amazon.com.
Contents of the Summer 2022 issue:
Two New Central Virginia Tools for Genealogists, by Elaine L. Taylor
Marriage Announcements in the Daily Progress (Charlottesville, VA), November 1895, transcribed by Diane Inman
Marriages in the Virginia Advocate (Charlottesville, Va.)
Death Announcements in the Virginia Advocate (Charlottesville, Va.)
The Best Way to Safely Label Photos, by Maureen A. Taylor
Orange County (Va.) Sheriffs, 1734-Present
Louisa County (Va.) Sheriffs 1742-Present
More About the Bell Family of Buckingham County, by Jean L. Cooper
If you have any articles you'd like to share with CVGA members, please send an email to the editor, eleanordew at gmail dot com — The Editor.