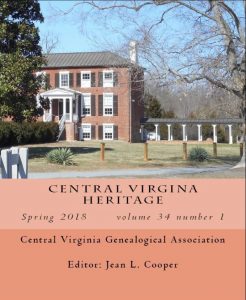 From this month's issue:  "Two Alexander Moseleys" by Joanne L. Yeck:
"During the 18th and 19th centuries, naming practices among Virginia's planter class were purposeful and surprisingly consistent. Maternal surnames were preserved as "first" names. Grandparents and, sometimes, rather pointedly, wealthy aunts and uncles were remembered in succeeding generations. These practices frequently give valuable clues to family connections. Often, they also result in multiple individuals with the same name, living concurrently in the same county. This can be maddening for researchers. As time passes, biographies become conflated, and genealogists can spend years untangling crisscrossing lives.…"
For the rest of this article, and several others, CVGA members should go to "Members Only" on the menu bar above, and choose "Central Virginia Heritage — Current Issue." (Note: You have to be logged in to this website in order to see "Members Only.")
For those who are not members, we offer the opportunity to purchase a printed copy of each issue. The Spring 2018 issue is available from https://www.amazon.com/dp/1986488012 for $6.50. Click on the Amazon.com link above or search for "Central Virginia Heritage" on Amazon.com.
If you have trouble logging in to the site to download your copy, or if you have trouble with the CreateSpace.com site, please contact me at the webmaster link at the bottom of this page.
Contents of the Spring 2018 issue:
Finding Those County Line Changes, by Judy G. Russell p. 1
Four Freedom Documents from Albemarle County, VA, transcribed by Jean L. Cooper p. 3
Connecting the Pieces of a Chancery Cause, by Jean L. Cooper p. 6
Sheriffs of Nelson County, VA, Through 1925 p. 10
Sheriffs of Augusta County, VA, Through 2016 p. 10
Sheriffs of Albemarle County, VA, Through 2016  p. 11
Getting Acquainted with the Revised Version of Find-A-Grave.com, by Ted Bainbridge p. 12
Will of Andrew McWilliams, Albemarle County, VA, 1772, transcribed by Jane J. Davis p. 15
The Key to Understanding Family Relationships p. 16
Diane Keeton Files Donated to CVGA, by Patricia Lukas p. 19
Index of Surnames in the Keeton Files p. 20
Passenger Lists to Virginia Before 1820, by Lorine McGinnis Schulze p. 23
Two Alexander Moseleys, by Joanne L. Yeck p. 24
President's Column by Patricia Lukas, p. 26
Family Relationship Chart p. 28
If you have any articles you'd like to share with CVGA members, please send an email to the editor, eleanordew@gmail.com. — The Editor.