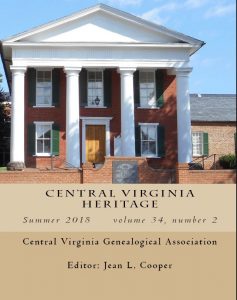 In this issue:  "President's Column" by Patricia Lukas:
"I hope you are planning on joining us on Saturday, October 6, 2018, at the Fall Conference we are hosting with the Virginia Genealogical Society. The conference will take place at the University of Virginia Inn at Darden on the beautiful grounds of the University in Charlottesville. The conference will feature two tracks: Virginia Gems, presented by noted Virginia genealogy specialist Barbara Vines Little, CG, FNGS, FVGS. … The second track is German Settlers and Migration Routes. These four sessions will be presented by Dorothy Boyd-Bragg, Ph.D., and Ashley Abruzzo, CTA. …"
For the rest of this article, and several others, CVGA members should go to "Members Only" on the menu bar above, and choose "Central Virginia Heritage — Current Issue." (Note: You have to be logged in to this website in order to see "Members Only.")
For those who are not members, we offer the opportunity to purchase a printed copy of each issue. The Summer 2018 issue is available from https://www.amazon.com/dp/1721574832 for $6.50. Click on the Amazon.com link above or search for "Central Virginia Heritage" on Amazon.com.
If you have trouble logging in to the site to download your copy, please contact me at the webmaster link at the bottom of this page.
Contents of the Summer 2018 issue:
Lost Jeffersons / Joanne L. Yeck. Page 1.
Two indentures of the Eastin Family, Orange County, VA. Page 4.
Register of Negroes Owned in Buckingham County, VA, by Robert T. Hubard, 1841-1859. Page 6.
A Visit to Tinkling Spring Presbyterian Church in Augusta County, VA / Jean L. Cooper. Page 8.
James Madison and the Louisiana 16 / Patricia Lukas. Page 10.
Poppin' the Trunk in Charles Town, WV / Dr. Shelley Murphy. Page 11.
Estate of Dr. Samuel Griffin Died January 24, 1812, Bedford County, VA / Jean L. Cooper. Page 14.
Sheriffs of Nelson County Updated to 2018 / Becky Howard. Page 19.
Sheriffs of Fluvanna County from 1777 to the Present / Tricia Johnson. Page 20.
Sanborn Fire Insurance Maps Now Online. Page 21.
President's Column / Patricia Lukas. Page 22.
Always Keep Backups of Your Online Genealogy Information / Dick Eastman. Page 23.
If you have any articles you'd like to share with CVGA members, please send an email to the editor, eleanordew@gmail.com. — The Editor.