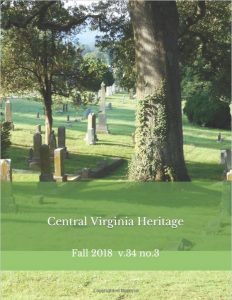 In this issue:  Jean L. Cooper's article, Crowd-Sourcing With Zooniverse.org:
One of the most interesting websites I recently discovered is www.Zooniverse.org. Zooniverse is a site that offers the opportunity to crowd-source the work involved in
transcribing collections of documents. Some of the projects are scientific in nature,
studying climate, biology, or medicine. Others have to do with language, history, or the arts. Among the projects: Helping transcribe the military records of African-American Civil War Soldiers, and transcribing records in The American Soldier, to provide access to a one-of-a-kind collection of reflections on war and military service by American soldiers who served during the Second World War. …
For the rest of this article, and several others, CVGA members should go to "Members Only" on the menu bar above, and choose "Central Virginia Heritage — Current Issue." (Note: You have to be logged in to this website in order to see "Members Only.")
If you have trouble logging in to the site to download your copy, please contact me at the webmaster link at the bottom of this page.
For those who are not members, we offer the opportunity to purchase a printed copy of each issue. The Fall 2018 issue is available from Amazon.com at https://www.amazon.com/dp/1723791210 for $6.50. Click on the Amazon.com link above or search for "Central Virginia Heritage" on Amazon.com.
Contents of the Fall 2018 issue:
Fall Conference of the Virginia Genealogical Society and the Central Virginia Genealogical Association, to be held 5-6 Oct., 2018, in Charlottesville, VA;
The Genealogical Library of the Daughters of the American Revolution;
Preservation Grants for Presbyterian Churches;
Obituary: Charles R. Moore;
Out of the Frying Pan and into the Fire;
Census Instructions;
Are You Missing Most of the Available Genealogy Information?;
Benjamin Bartley, Free Negro Registration, 1808;
Three Allen Wills from Buckingham County;
The Southall Family of Virginia;
Crowd-Sourcing on Zooniverse.org;
Fredericksburg National Cemetery;
Rockingham County Cemetery Indexes.
As a little extra gift, the online edition contains an extra, one-page guide to Basic Steps for African American Slave Research, courtesy of Dr. Shelley Murphy.
If you have any articles you'd like to share with CVGA members, please send an email to the editor, eleanordew@gmail.com. — The Editor.