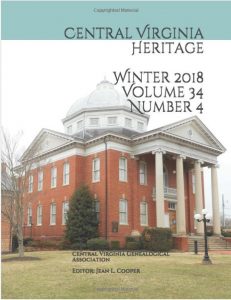 In this issue: Diane Inman's transcribed article, Marriage Announcements in the Daily Progress (Charlottesville, VA) March-May, 1893:
[Notes: The Daily Progress began publication in March 1893. The initial date on these entries is the date the announcement appeared in the newspaper, not the date of the event.—Editor]
29 Mar 1893—Mr. James C. Bishop and Miss Carrie L. Dudley were married at the residence of the bride's parents near B. M. church last evening, the Rev. George F. Cook officiating.
03 Apr 1893—A marriage license to Marshall R. Graves and Polly A. Thurston was issued by the clerk of the County Court on April 1st. …
For the rest of this article, and several others, CVGA members should go to "Members Only" on the menu bar above, and choose "Central Virginia Heritage — Current Issue." (Note: You have to be logged in to this website in order to see "Members Only.")
If you have trouble logging in to the site to download your copy, please contact me at the webmaster link at the bottom of this page.
For those who are not members, we offer the opportunity to purchase a printed copy of each issue. The Winter 2018 issue is available from Amazon.com at https://www.amazon.com/Central-Virginia-Heritage-Winter-2018/dp/1723823627 for $6.50. Click on the Amazon.com link above or search for "Central Virginia Heritage" on Amazon.com.
Contents of the Winter 2018 issue:
A Country Thanksgiving, by Charles C. Crenshaw … p. 1
Connections to the Mayflower Society, a letter from Andrew Gutkowski … p.3
Buckingham County Gold: The Allen Family Papers, by Joanne L. Yeck … p.4
Records of Ante-Bellum Southern Plantations for Family Historians, by Jean L. Cooper … p.9
What's All This About DNA? by Diane Inman … p.11
Geo. W. Layne Died At Sea … p.13
Marriage Announcements in the Daily Progress (Charlottesville, VA) March-May, 1893 … p.14
Last Will & Testament of Samuel Overton of Hanover County, VA (1812) … p.16
Two Eastin Documents from Orange County, VA … p.19
Spanish Influenza in Central Virginia, 1918, by Patricia Lukas … p.21
President's Column, by Patricia Lukas … p.23
Comparison of Major DNA Testing Companies, by Deborah R. Harvey … p.24
If you have any articles you'd like to share with CVGA members, please send an email to the editor, eleanordew@gmail.com. — The Editor.