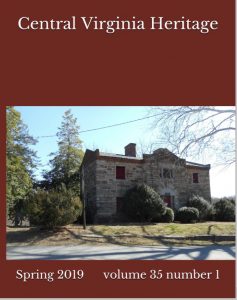 This issue begins with Joanne L. Yeck's article, Where There's a Will, There's a Way:
"The Fall 2018 issue of Central Virginia Heritage included three Allen family wills transcribed by Jean L. Cooper. These rare documents go a long way toward illuminating one of Buckingham County's earliest and largest families who migrated west from New Kent County, Virginia, to Henrico/Goochland/ Albemarle/Buckingham counties during the eighteenth century.
"In 1995, Rev. Richard Fenton Wicker, Jr. published a genealogy of this line entitled The Allen Family of England, Virginia, North Carolina, Tennessee, Mississippi, Texas and Illinois, 1600–1995. Over the years, along with many other Allen researchers, I have relied heavily on his solid research. Genealogy, however, is ever evolving and, recently, I learned that some of Rev. Wicker's conclusions have been disproved based on subsequent findings, including Y-DNA evidence. While it is always best to seek primary documents, secondary sources, such as Rev. Wicker's book, remain useful and his work is fundamental to this article.
"The patriarch of this Allen line, Capt. William Allen (1692–1751/1752), born in eastern Virginia, was destined to become one of the founders of the newly formed Albemarle County. …"
For the rest of this article, and several others, CVGA members should go to "Members Only" on the menu bar above, and choose "Central Virginia Heritage — Current Issue." (Note: You have to be logged in to this website in order to see "Members Only.")
If you have trouble logging in to the site to download your copy, please contact me at the webmaster link at the bottom of this page.
For those who are not members of CVGA, we offer the opportunity to purchase a printed copy of each issue. The Spring 2019 issue is available from Amazon.com at https://www.amazon.com/Central-Virginia-Heritage-Spring-2019/dp/1798551527 for $6.50. Click on the Amazon.com link above or search for "Central Virginia Heritage" on Amazon.com.
Contents of the Spring 2019 issue:
Where There's a Will, There's a Way: Dissecting Last Wishes in Three Buckingham County Wills, by Joanne L. Yeck
Buckingham County 1764 Tithable List & 1782 Personal Property Tax, by Joanne L. Yeck
Planning Your Cemetery Research, by Susan DuBar
Marriage Announcements in the Daily Progress (Charlottesville, VA) June 1893, by Diane Inman
New Jersey to Virginia: Murphy–Henry/Hendry—Borden, by Dr. Shelley Murphy
Library of Virginia and Virginia Museum of History and Culture Combine Databases of Enslaved Virginians
Statue of George Washington by Jean Antoine Houdon
Some Musings on the U.S. Census and Birth Dates, by Jean L. Cooper
Message from CVGA President, by Patricia Lukas
If you have any articles you'd like to share with CVGA members, please send an email to the editor, eleanordew@gmail.com. — The Editor.