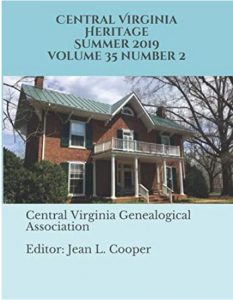 In this issue, we have a fascinating article by Karen Lucas Williams, presenting research and analysis of "a letter written by Margaret Donald of Aberdeen, Scotland, to her cousin Patrick Henry in Virginia, dated 13 April 1790. The original letter is housed in the Manuscript Division of the Library of Congress, in Washington, D.C., in the personal correspondence of Patrick Henry.
"The letter is important to the descendants of Col. John Henry of Virginia, father of the famous orator, lawyer, and first post-colonial governor of Virginia, Patrick Henry, and also to the descendants of William Diuguid of Buckingham Co., Virginia. It allows us a glimpse into the family relationships of the Henry, Diuguid, and Donald lines in Virginia and helps us to find traces of their elusive common Henry ancestors and relatives in Scotland. It is my hope that other researchers will build upon these findings and share any new findings in the spirit of kinship with which I have presented this article. …"
For the rest of this article, and several others, CVGA members should go to "Members Only" on the menu bar above, and choose "Central Virginia Heritage — Current Issue." (Note: You have to be logged in to this website in order to see "Members Only.")
If you have trouble logging in to the site to download your copy, please contact me at the webmaster link at the bottom of this page.
For those who are not members of CVGA, we offer the opportunity to purchase a printed copy of each issue. The Summer 2019 issue is available from Amazon.com at https://www.amazon.com/gp/product/1099658888/ for $6.50. Click on the Amazon.com link above or search for "Central Virginia Heritage" on Amazon.com.
Contents of the Summer 2019 issue:
Margaret's Letter by Karen Lucas Williams
Diuguid Funeral Home Database, Lynchburg, VA
Dogwood Vietnam Memorial, by Charles C. Crenshaw
Armed Forces Medical Examiner System: The DNA Identification Laboratory, by Diane Inman
The Story of Bleak House, by Alice Cannon
President's Column, by Patricia Lukas.
If you have any articles you'd like to share with CVGA members, please send an email to the editor, eleanordew@gmail.com. — The Editor.