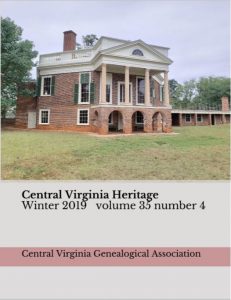 In this issue, we have articles by Jean L. Cooper, Diane Inman, Karen Lucas Williams, Samuel Hayes III, and Charles C. Crenshaw.
Hayes' "A Forty-Two-Year Family Search in the Age of DNA," begins:
"As many did in 1977, I eagerly anticipated watching the series Roots. It was the first time that a miniseries covered the history of an African-American family from its inception in Africa to its patriarch being brought to America in chains through subsequent travails and triumphs to freedom at the end of the Civil War. I was enthralled and began to wonder about the history of my own family.
"At that point all I really knew about my family was back to some of my great-grandparents. Like many African-Americans born in Virginia, I knew I had a mixed heritage but did not know who they were. A careful view of my paternal grandfather Samuel Hayes, Sr. bore out his mixed heritage, but when I would ask him about his family his response was always, "You do not want to know about those people." This response always left me perplexed and wondering what they had done or what they were like.
"My grandfather would periodically drop information about his family. He had three half siblings; he saw Halley's Comet in 1910 on the shoulder of his cousin; he went to work at the age of ten because he got tired of starving; and a good Christmas for him would be an orange or a cap for a cap gun…"
For the rest of this article, and several others, CVGA members should go to "Members Only" on the menu bar above, and choose "Central Virginia Heritage — Current Issue." (Note: You have to be logged in to this website in order to see "Members Only.")
If you have trouble logging in to the site to download your copy, please contact me at the webmaster link at the bottom of this page.
For those who are not members of CVGA, we offer the opportunity to purchase a printed copy of each issue. The Winter 2019 issue is available from Amazon.com at https://www.amazon.com/dp/1708972358 for $6.50. Click on the Amazon.com link above or search for "Central Virginia Heritage" on Amazon.com.
Contents of the Winter 2019 issue:
The Robert Watkins Files, Campbell County, Virginia / Jean L. Cooper
Susan J. (Diuguid) Spiller / Karen Lucas Williams
Marriage Announcements in the Daily Progress (Charlottesville, VA) January 1895 / Diane Inman
A Forty-Two-Year Family Search in the Age of DNA / Samuel Hayes III
Obituary – Wilda Lara Dickerson Crenshaw Mann / Charles Conway Crenshaw
Botetourt County Genealogy Fair, 2020
Books: The Blackest Sheep — Echoes From My Heart — Hidden Wills
Sheriffs of Amelia County, VA / Jean L. Cooper
President's Column / Patricia Lukas
If you have any articles you'd like to share with CVGA members, please send an email to the editor, cvgaboard@gmail.com — The Editor.