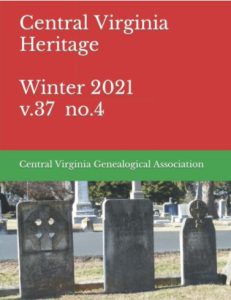 Will of Mahala, a Free Woman of Color, Hanover County, Virginia, 1831
"In the name of God amen. I, Mahala, a free woman of color of the County of Hanover and parish of Saint Paul being in sound mind and memory do make and ordain this to be my last will and testament, hereby revoking all former wills…."
To see the rest of this article, CVGA members should go to "Members Only" on the menu bar above, and choose "Central Virginia Heritage — Current Issue." (Note: You have to be logged in to this website in order to see "Members Only.")
If you have trouble logging in to the site to download your copy, please contact me at the webmaster link at the bottom of this page.
For those who are not members of CVGA, we offer the opportunity to purchase a printed copy of each issue. The Winter 2021 issue is available from Amazon.com at https://www.amazon.com/Central-Virginia-Heritage-Winter-2021/dp/B09MDRD48Z for $6.50. Click on the Amazon.com link above or search for "Central Virginia Heritage" on Amazon.com.
Contents of the Winter 2021 issue:
Successful Cluster and Collateral Searching, by Thomas MacEntee
Lost No More: Buckingham Burials, a book review by Joanne L. Yeck
Company B—The Boyd Rifles from Goochland County, and Company C—The Travis Rifles from Buckingham County, at the Battle of Fredericksburg, December 1862
Beazley Estate, Spotsylvania County VA, 1856
The Estate of Japheth Towler, Charlotte County, VA
The Will of Joseph Towler, Pittsylvania County, Virginia, 1818
The Will of Mahala, a Free Woman of Color, Hanover County, Virginia, 1831
A Brief Biography of William Campbell Scott, of Powhatan County, Virginia, by Jean L. Cooper
New FamilySearch Interface, by Barbara Branham
List of Hanover County (VA) Sheriffs (1753 to Present)
A History of Tarry Farm, White Hall, VA, by Katherine Spaar
If you have any articles you'd like to share with CVGA members, please send an email to the editor, eleanordew at gmail dot com — The Editor.