Hi all — I was aiming at March 1st as the publication date for the Spring issue, but I managed to make it a Valentine's Day baby instead!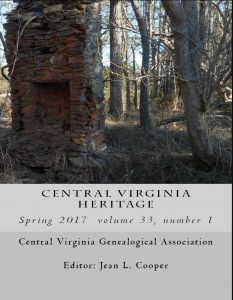 First, a snippet from the article by Bernadette Whitsett-Hammond & Edwina St. Rose, titled "Preserving the Daughters of Zion Cemetery in Charlottesville, VA."
"The Daughters of Zion Cemetery, located near Oakwood Cemetery in Charlottesville, VA, was established in 1873 by members of the Daughters of Zion, a women's benevolent organization that sought to support the needs of African Americans following Reconstruction. One of the important efforts conducted by the Daughters of Zion was to provide a place of dignified burial as an alternative to segregated cemeteries such as Oakwood Cemetery…"
For the rest of this article, and several others, CVGA members should go to "Members Only" on the menu bar above, and choose "Central Virginia Heritage — Current Issue." (Note: You have to be logged in to this website in order to see "Members Only.")
For those who are not members, we offer the opportunity to purchase a printed copy of each issue. The Spring 2017 issue is available from Createspace.com/6566260 for $6.50. Click on the CreateSpace.com link above or search for "Central Virginia Heritage" on the Createspace.com Store site.
If you have trouble logging in to the site to download your copy, or if you have trouble with the CreateSpace.com site, please contact me at the webmaster link at the bottom of this page.
Contents of the Spring 2017 issue:
The Blue Ridge Heritage Project, by Bill Henry … page 1
Freedmen's Bureau Transcription Project Completed … page 4
The Rushes of Chestnut Grove, by Regina Rush … page 5
Polish Genealogical Society of America … page 10
A Letter From the Editor … page 10
Ehart's Mill in Earlysville, by Everette M. Huff … page 11
2017 Legacy Family Tree Webinar Series Announced … page 12
Midwest African American Genealogy Institute Celebrates Milestone Year! … page 13
Preserving the Daughters of Zion Cemetery in Charlottesville, VA, by Bernadette Whitsett-Hammond & Edwina St. Rose … page 14
Research at the American Baptist Historical Society … page 15
Blanket Lists for 1817 & 1818 in the Account Book of John George Woolfolk for Shepherd's Hill Plantation, 1811-1819 … page 16
DNA Talk Rescheduled to March 14, 2017 … page 16
The Times-Dispatch Genealogical Column: The Duke Family of Virginia … page 17
Hollywood Cemetery (Richmond, VA), by Jean Cooper … page 20
A Simple Way To Read Old Tombstones … page 20
The Bible Comes Back to the Family! by Shelley Murphy … page 21
The Clark Allison Story, by Diane Inman … page 23
Packing list for a genealogical trip … page 24
Molecular Genealogy of a Mongol Queen's Family and Her Possible Kinship with Genghis Khan, by Gavaachimed Lkhagvasuren, et al. … page 25
President's Column, by Patricia Lukas … page 26
If you have any articles you'd like to share with CVGA members, please send an email to cvgaboard@gmail.com, Attention: The Editor.