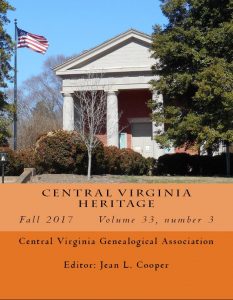 First, a snippet from the President's Column About CVGA's 40th Anniversary
"This year, 2017, marks the 40th anniversary of the founding of the Central Virginia Genealogical Association. The idea of establishing a local genealogy society was hatched after a group of like-minded people attended a genealogy seminar in June 1977. In short order, they came up with Articles of Incorporation, collected the first dues, and elected the first officers. By September 1977, CVGA was chartered by the State Corporation Commission of the Commonwealth of Virginia…"
For the rest of this article, and several others, CVGA members should go to "Members Only" on the menu bar above, and choose "Central Virginia Heritage — Current Issue." (Note: You have to be logged in to this website in order to see "Members Only.")
For those who are not members, we offer the opportunity to purchase a printed copy of each issue. The Fall 2017 issue is available from Createspace.com/title/7469534 for $6.50. Click on the CreateSpace.com link above or search for "Central Virginia Heritage" on the Createspace.com Store site.
If you have trouble logging in to the site to download your copy, or if you have trouble with the CreateSpace.com site, please contact me at the webmaster link at the bottom of this page.
Contents of the Fall 2017 issue:
CVGA's 40th Anniversary…p.1
The Fluvanna County Courthouse, by Patricia Lukas…p.2
Virginia: Where African American Genealogy and History Begin…p.3
What's the Evidence? Analyzing the Documents To Find Out Where Govan Cureton Was Born! by Shelley Murphy…p.4
How to Read Old Handwriting…p.13
Estate of Benjamin Gatewood, Caroline County, Virginia…p.14
Frederick W. Meerbach (17 Jan. 1814-ca. 1893), by Jean L. Cooper…p.17
A Jamison Family Puzzle, by Jane Davis…p.22
Last Will of John Williamson of Fluvanna County…p.23
Thanksgiving Memories, by Charles Conway Crenshaw…p.25
Congressional Cemetery, Washington, DC, by Jean L. Cooper…26
A Note From the Editor…p.28
If you have any articles you'd like to share with CVGA members, please send an email to cvgaboard@gmail.com, Attention: The Editor.