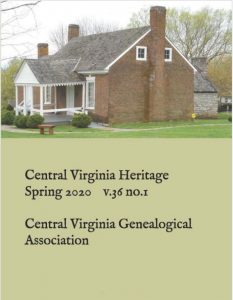 Among other articles in this issue, we find: "The Jouett Family in Central Virginia":
Albemarle County's Jouett family is directly descended from Matthieu de Jouhet, the Lord of Leveignac and Master of the Horse to Louis XIII of France (reigned 1610-1643).
Matthieu de Jouhet's grandson Daniel de Jouet emigrated from France to the Narragansett area (the British colony of Rhode Island) in 1686. Daniel moved around quite a bit, settling first in South Carolina, then New York, and in 1721, in Elizabethtown, New Jersey.
Daniel's youngest son, Jean Jouett, who was also born in France, was the father of John Jouett, Sr. (1730-1802). John Sr. was the owner of the Swan Tavern next to the Albemarle County Courthouse, and the area north of Charlottesville that became the High Street neighborhood. He was a signer of the Albemarle County Declaration of Independence on 21 April 1779. He was buried on the lot of the Swan Tavern, but the exact site was lost. The building itself was destroyed in 1828; the building now on the site was built in the first half of the nineteenth century….
For the rest of this article, and several others, CVGA members should go to "Members Only" on the menu bar above, and choose "Central Virginia Heritage — Current Issue." (Note: You have to be logged in to this website in order to see "Members Only.")
If you have trouble logging in to the site to download your copy, please contact me at the webmaster link at the bottom of this page.
For those who are not members of CVGA, we offer the opportunity to purchase a printed copy of each issue. The Spring 2020 issue is available from Amazon.com at https://www.amazon.com/gp/product/B085K6JMFD/ for $6.50. Click on the Amazon.com link above or search for "Central Virginia Heritage" on Amazon.com.
Contents of the Spring 2020 issue:
Life In 1940s Earlysville, by Charles Conway Crenshaw…p.1-3
No Stone Left Unturned: The Papers of Walter Lloyd Fontaine, by Joanne L. Yeck… p.4-11
Marriage Announcements in the Daily Progress (Charlottesville, VA) February 1895, transcribed by Diane Inman…p.11-12
Jack Jouett: Revolutionary Rider, by Judy Bloodgood Bander (Woodside Publishers, 2014). A review by Jean L. Cooper.. p. 13-14
The Jouett Family in Central Virginia, by Jean L. Cooper p.14-15
What Are Finding Aids? p. 15
No Worries, My Will Gives Away My Genealogy Stuff, by Michael John Neill…p.16
The Freshest Advices; Buckingham County, Virginia, Genealogical Records from Newspapers, 1736-1850, by Randy Crouse, A Review by Joanne L. Yeck, p. 17-18
Charles Wesley Lusk, Jr. (1914-2005), A distinguished University of Virginia alumnus, by Diane Inman… p. 18-21
Settlement of the Estate of Samuel Griffin of Bedford County, VA, died 1812. Transcribed by Jean L. Cooper…p.22-26
Letter from the Editor, by Jean L. Cooper … p.27
President's Column, by Susan Lindsay…p.28
If you have any articles you'd like to share with CVGA members, please send an email to the editor, eleanordew at gmail dot com. — The Editor.