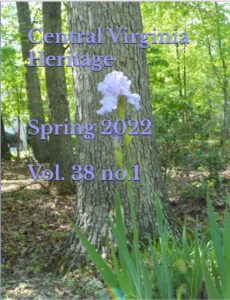 Remembering Millwood: A Miller Plantation in Buckingham County, Virginia,
by Joanne L. Yeck
When assembling a family history, far too many budding genealogists discover that "there's no one left to ask." The previous generation is gone or doesn't remember the stories we're eager to hear, and we find ourselves starting from scratch.
Some years ago, I discovered that one of my
Miller cousins, Robbie J. Oliver (1890-1979),
had the foresight to interview her aunt, Nannie
Franklin (Miller) Goodman (1859-1953). In 1944, Nannie dictated a brief memoir, primarily recalling the slaves who lived at Millwood, her family's antebellum plantation
in the northeast corner of Buckingham County, Virginia.
Well over half a century later, with the help of census, tax, and CSA records, along with vital statistics, I was able to confirm and expand on Nannie's recollections. Born on February 8, 1859, Nannie clearly remembered the domestic servants who tended to the people in her home. The housekeeper, the butler, the cook, the nurse—these African-American servants cared for her, her parents, and her four sisters even beyond emancipation in 1865. 
To see the rest of this article, CVGA members should go to "Members Only" on the menu bar above, and choose "Central Virginia Heritage — Current Issue." (Note: You have to be logged in to this website in order to see "Members Only.")
If you have trouble logging in to the site to download your copy, please contact me at the webmaster link at the bottom of this page.
For those who are not members of CVGA, we offer the opportunity to purchase a printed copy of each issue. The Spring 2022 issue is available from Amazon.com at https://www.amazon.com/gp/product/B09W4DKWVC/ for $6.50. Click on the Amazon.com link above or search for "Central Virginia Heritage" on Amazon.com.
Contents of the Spring 2022 issue:
Remembering Millwood: A Miller Plantation in Buckingham County, Virginia, by Joanne L. Yeck…page 1

Company D—The Amber Grays Louisa, Fluvanna, Goochland, and Hanover Counties, and Field and Staff at the Battle of Fredericksburg, December 1862, by Diane Inman…page 7

The 1950 Census: Are You Ready? By Thomas MacEntee…page 10

Statement of William Peebles of Tennessee, regarding the family of Peter and Mary Potts of Lunenburg County, Virginia…page 14

Marriage Announcements in the Daily Progress (Charlottesville, VA) October 1895, transcribed by Diane Inman…page 16

Marriages in the Central Gazette (Charlottesville, Va.), transcribed by Jean Cooper…page 24

Excerpt from NYC Historical Vital Records Go Online! By Judy G. Russell…page 24
If you have any articles you'd like to share with CVGA members, please send an email to the editor, eleanordew at gmail dot com — The Editor.