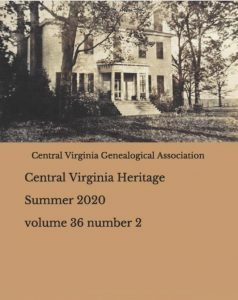 This issue contains 4 articles with generally useful information, including the first part of a list of African-American Men paying taxes in the 1867 Fluvanna County personal property tax list.
After the Civil War, all men over 21 years of age had to pay a personal property tax. The minimum personal property tax was $1 per year, unless you had an exemption, such as age. The tax assessors must have run into problems in 1866 trying to locate African-American men who hadn't paid their taxes that year because most of them didn't own land. There were also men with identical names, so there was a problem knowing which man of that name had paid his taxes.
Starting in 1867, Albemarle. Fluvanna, Greene, Louisa, and Nelson Counties began to record where these African-American men could be found. Other counties besides these five likely recorded locations also, but so far these are the ones I personally know of. …
For the rest of this article, and several others, CVGA members should go to "Members Only" on the menu bar above, and choose "Central Virginia Heritage — Current Issue." (Note: You have to be logged in to this website in order to see "Members Only.")
If you have trouble logging in to the site to download your copy, please contact me at the webmaster link at the bottom of this page.
For those who are not members of CVGA, we offer the opportunity to purchase a printed copy of each issue. The Summer 2020 issue is available from Amazon.com at https://www.amazon.com/dp/B08C9CPS95 for $6.50. Click on the Amazon.com link above or search for "Central Virginia Heritage" on Amazon.com.
Contents of the Summer 2020 issue:
The Dwelling at Snowden
African-American Men in the 1867 Fluvanna County (VA) Personal Property Tax Books (A-G)
Marriage Announcements in the Daily Progress (Charlottesville, VA), March 1895
The Estate of Henry Pendleton of Louisa County, Virginia.
If you have any articles you'd like to share with CVGA members, please send an email to the editor, eleanordew at gmail dot com. — The Editor.