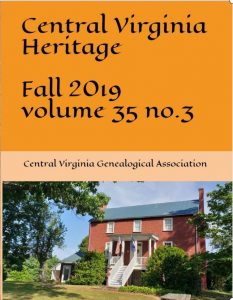 In this issue, we have articles by Charles C. Crenshaw, Joanne L. Yeck, and Karen Lucas Williams, among several others!
Crenshaw's article on Chestnut Grove Baptist Church of Earlysville begins:
"The Chestnut Grove Baptist Church in Earlysville, Virginia, was established on May
9, 1773, as Albemarle Baptist Church. Forty-six white and two black members met at the Lewis's meeting house on Staunton Road, which we now know as Ivy Road and Route 250 West. The meeting house was located where people now enjoy playing on the Birdwood Golf Course. It was the first Baptist Church in Albemarle County. Andrew Tribble was ordained the first minister in June 1777. William "Billy" Woods, pastor of the church for many years after 1780, sent a petition to Virginia General Assembly Delegate Thomas Jefferson, requesting the Anglican Church be disestablished, to put every denomination on an equal footing." …
For the rest of this article, and several others, CVGA members should go to "Members Only" on the menu bar above, and choose "Central Virginia Heritage — Current Issue." (Note: You have to be logged in to this website in order to see "Members Only.")
If you have trouble logging in to the site to download your copy, please contact me at the webmaster link at the bottom of this page.
For those who are not members of CVGA, we offer the opportunity to purchase a printed copy of each issue. The Fall 2019 issue is available from Amazon.com at https://www.amazon.com/dp/1690639504 for $6.50. Click on the Amazon.com link above or search for "Central Virginia Heritage" on Amazon.com.
Contents of the Fall 2019 issue:
Chestnut Grove Baptist Church History, by Charles Conway Crenshaw
One Man's Black Sheep … is Another Man's Local Hero: Discovering Gene Harris and Chicago's Club Alabam, by Joanne L. Yeck
The Spiller Family of Buckingham County, Virginia, by Karen Lucas Williams
Will of Mary "Polly" (Spears) Spiller, Buckingham County, Virginia (circa 1848)
Documents from the Case of James M. Spiller, etc. vs. Reuben Sorrell, Hanover County, Virginia, including the Will of James Spears (1833)
Henry Spiller & Wife vs. Mary Calvert, Culpeper County, VA, including the Will of Ralls Calvert, Culpeper County, VA
Marriage Announcements in the Daily Progress (Charlottesville, VA), August-December, 1894, by Diane Inman
Gathering to Share African American History and Genealogy in Central VA, by Andi Cumbo-Floyd
The Tale of a Black Sheep: Stephen Price Maury, compiled and annotated by Richard L. Nicholas
Fluvanna Historical Society Preserves Court Records, by Tricia Johnson
Fluvanna County Circuit Court Awarded Grant to Preserve Local Records
President's Column, by Patricia Lukas
August 2019 CVGA Field Trip
If you have any articles you'd like to share with CVGA members, please send an email to the editor, eleanordew@gmail.com. — The Editor.