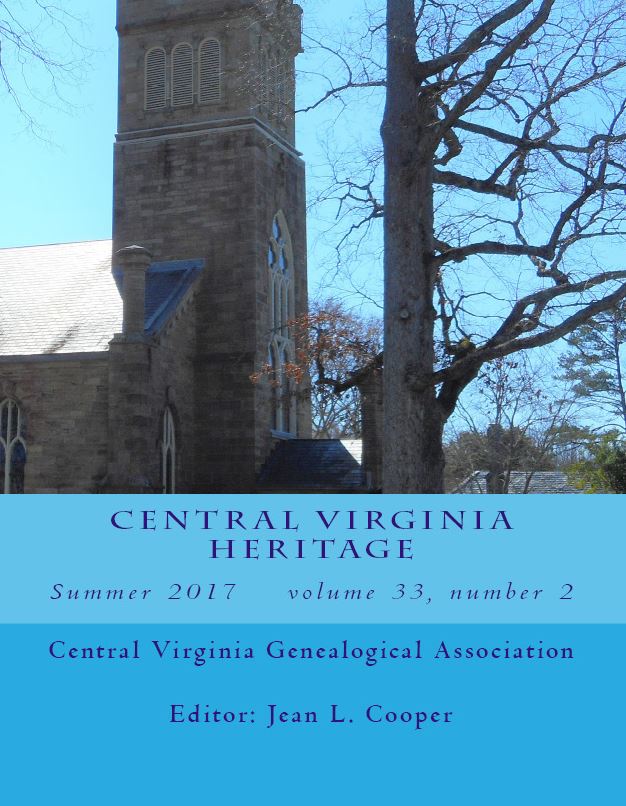 First, a snippet from the article "Ancestry for Virginians":
"The Library of Virginia announces "Ancestry for Virginians," a new resource available to citizens of Virginia, made possible through a partnership with Ancestry.com…. Included in this initial offering are the Virginia vital records, indexed and digitized through a public-private partnership between the Virginia Department of Health and Ancestry.com following the 2012 passage of Senate Bill 660, which supported the digitization, indexing, and public accessibility to birth, death, marriage, and divorce records created since 1912. While the indexes to the records have been available since 2015, the Commonwealth's citizens will now have free access through this new resource to digital images of the open records of the following collections…"
For the rest of this article, and several others, CVGA members should go to "Members Only" on the menu bar above, and choose "Central Virginia Heritage — Current Issue." (Note: You have to be logged in to this website in order to see "Members Only.")
For those who are not members, we offer the opportunity to purchase a printed copy of each issue. The Summer 2017 issue is available from CreateSpace.com/6985104 for $6.50. Click on the CreateSpace.com link above or search for "Central Virginia Heritage" on the Createspace.com Store site.
If you have trouble logging in to the site to download your copy, or if you have trouble with the CreateSpace.com site, please contact me at the webmaster link at the bottom of this page.
Contents of the Summer 2017 issue:
Preserving the Fountains of the National WCTU, by Diane Inman…p.1
Virginia Restores Funding!, by Judy G. Russell…p.4
Evidence Explained. 3rd edition, revised…p.5
Historical Obituary from the Daily Progress…p.6
Amherst County Museum and Historical Society…p.8
Fluvanna Historical Society, Palmyra, VA…p.8
The Heritage Museum/The Harrisonburg-Rockingham Historical Society…p.9
Petition to be Classified as White: Thomas Littlepage…p.10
A Treasure Box Found, by Robert F. Niehaus…p.11
Obituaries, Robert F. Niehaus & Martin R. Davis, Jr….p.11-13
"Ancestry for Virginians"…p.13
The Maury Family of Virginia…p.14
David Ross of Oxford Iron Works List of Slaves Owned…p.16
The Hamner Family of Central Virginia, by Jean L. Cooper…p.18
Burnley & ux vs. William Crenshaw Admr. & al. (Louisa County, 1801)…p.22
President's Column, by Patricia Lukas…p.24
If you have any articles you'd like to share with CVGA members, please send an email to cvgaboard@gmail.com, Attention: The Editor.