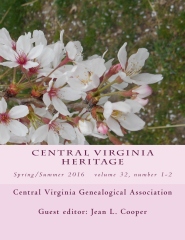 From the President's Column, by Patricia Lukas:
"Welcome to the first digital edition of the Central Virginia Heritage. Our last paper issue was mailed out in December 2014, ending a tradition that started in January 1983—over 30 years of publication. With this electronic issue, we are beginning a new tradition while building on the history of providing our members with articles of genealogical interest which will inform, educate, and inspire."
Genealogical Research at the Albemarle County Court House, By John C. E. Christensen, Updated by Sam Towler, Jean L. Cooper, and Patricia Lukas

Introduction

We are fortunate that a potential gold mine of genealogical information has been preserved in the Albemarle County Court House. While working in the court house record room, I have had the pleasure of meeting fellow genealogists who have come from the far corners of the United States. In talking with them about the mechanics of their quests, I have discovered that many of them are overlooking court records that are full of information. I have compiled, in order to help others understand, this source-by-source guide to research in the Albemarle County Court House. It will also be useful in other Virginia counties; although the exact records maintained by each county vary, the basic types are usually the same. Familiarity with the records should come in handy for genealogical research in any jurisdiction.

All of the records listed in this discussion are to be found in the circuit court record room and historical record vault on the second floor of the Albemarle County Court House on Court House Square in Charlottesville. The only records not found in the court house are the suit papers, which are stored in the Library of Virginia, in Richmond.
For the rest of this article, and several others, click here to access your members-only copy of the Central Virginia Heritage, Spring/Summer 2016, v.32, no.1-2.
For those who are not members, we offer a printed copy of each issue beginning with this Spring/Summer 2016 issue, available from CreateSpace.com/6258210 for $6.50. Click on the CreateSpace.com link above or search for "Central Virginia Heritage" on the Createspace.com Store site.
In the near future we will be offering for sale a CD-ROM copy of the Central Virginia Heritage Archive, 1983-2014 — watch this space for future announcements!
(If you have trouble logging in to the site to download your copy, or if you have trouble with the CreateSpace.com site, please contact me at the webmaster link at the bottom of this page.)
Table of Contents for Spring/Summer 2016 issue:
Genealogical Research at the Albemarle County Court House, by Sam Towler, et al. … p.1
Plans of the Albemarle County Court House Clerk's Office & Records Room … p.13
The Charlie Summer, by Susan DuBar … p.15
Announcing a New Adventure in Genealogy Education: Genealogy Professor, by Dick Eastman … p.16
Virginia Newspaper Websites for the Researcher, by Jean L. Cooper … p.17
How do I access the Central Virginia Heritage Archive? … p.18
Waller Holladay Lists of Slaves, 1854-1860 … p.19
Earlysville Community Neighbors, by Charles Conway Crenshaw … p.22
Genealogy Conference Announcements … p.25
President's Column, by Patricia Lukas … p.26