This Memorial Day Weekend, get free access to 550+ million military records on Fold3®. Search for the inspiring stories of the veterans in your family in our vast collections covering military conflicts since the Revolutionary War.
https://www.fold3.com/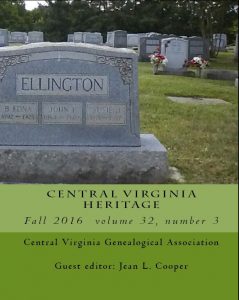 Here is a snippet from Patricia Lukas' article "Hill & Wood Funeral Service Records:
A Brief Overview":
The business now known as Hill & Wood Funeral Service was founded in 1907 as the Irving, Way, Hill Company. Mr. Willard Irving handled the livery business, Mr. C.T. Way was a carriage maker, and J. Hercules Hill was the undertaker. It was located at Water and Main Streets. After one relocation, the business was moved to its present location at 201 N. First Street, Charlottesville, VA in 1936.
The company was incorporated as Hill and Irving in 1929. Mr. Paul H. Wood assumed the presidency in 1975 when a new corporation named Hill and Irving Funeral Home, Inc. was formed. Hill and Wood Funeral Service, Inc. became the name of the firm on January 1, 1978.
The earliest records held by the company date from August 1914. The first book consists of preprinted pages with the record of services provided …
For the rest of this article, and several others, go to "Members Only" on the menu bar above, and choose "Central Virginia Heritage — Current Issue." (Note: You have to be logged in to this website in order to see "Members Only.")
For those who are not members, we offer the opportunity to purchase a printed copy of each issue. The Fall 2016 issue is available from CreateSpace.com/6549428 for $6.50. Click on the CreateSpace.com link above or search for "Central Virginia Heritage" on the Createspace.com Store site.
If you have trouble logging in to the site to download your copy, or if you have trouble with the CreateSpace.com site, please contact me at the webmaster link at the bottom of this page.
Table of Contents for Fall 2016 issue:
Excerpts from A Census of Pensioners for Revolutionary or Military Services … page 1
Burial Records of Jewish Cemeteries in Central Virginia … page 5
Thomas M. Appling (1 Jan 1832-ca. 22 Aug. 1862) … page 6
Hill & Wood Funeral Service Records: A Brief Overview … page 7
Genetic Genealogy in Practice: Book Announcement … page 8
Pension Testimony from Veterans of the American Revolution in Albemarle County … page 9
The Pension Act of 1818 … page 13
An 18th-Century Pre-Nuptial Agreement from Fluvanna County … page 14
Three Lists of Negro Slaves Owned by Lewis Holladay of Bellefonte, Spotsylvania County, Va., 1800-1817 … page 19
Spotsylvania County, Va. Tax Assessments, 1779-1780 … page 20
Central Virginia Historical Organizations … page 24
President's Column, by Patricia Lukas … page 27