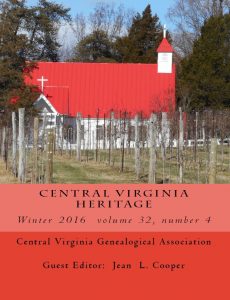 A snippet from Sam Towler's article, "Albemarle County Chancery Cases Preservation Project":

In the 1970s, Albemarle County sent most of the chancery cases in its files which ended before 1912 to the Library of Virginia. The Library of Virginia preserved all the cases they received and put them in acid-free folders to prevent deterioration.  With the Albemarle County Clerk's approval, I have been working on a project to preserve the post-1900 cases that Albemarle still had at the Courthouse in Charlottesville by unfolding the documents and putting the papers in acid-free folders provided by the Clerk's Office.
For the rest of this article, and several others, go to "Members Only" on the menu bar above, and choose "Central Virginia Heritage — Current Issue." (Note: You have to be logged in to this website in order to see "Members Only.")
For those who are not members, we offer the opportunity to purchase a printed copy of each issue. The Winter 2016 issue is available from CreateSpace.com/6782694 for $6.50. Click on the CreateSpace.com link above or search for "Central Virginia Heritage" on the Createspace.com Store site.
If you have trouble logging in to the site to download your copy, or if you have trouble with the CreateSpace.com site, please contact me at the webmaster link at the bottom of this page.
Table of Contents for the Winter 2016 issue:
Division of the Negro Property of the Estate of William Morris of Louisa County, Virginia, 1832 … page 1
Albemarle County Chancery Cases Preservation Project … page 4
Last Will and Testament of Benjamin Franklin, of St. Anne's Parish, Albemarle Co., VA … page 6
Early Broadus Wood High School History … page 7
The Wyatt Family of Albemarle County, Virginia … page 9
Reductions in Service at the Library of Virginia … page 11
The Times-Dispatch Genealogical Column: The Walker Family of Virginia … page 12
Castle Hill … page 16
James Govan Estate Settlement and Division of Slaves (1831-1835), Hanover Co., VA … page 18
List of the Hire of Negroes [of the Heirs of] Richard Terrell of Louisa Co., VA (1771) … page 19
Funeral Home Records Available Online … page 20
Letter from Edward Govan to Mary Govan Hill, near Fredericksburg, VA (1831) … page 22
Slaves of John Ambler (April 1829) at his Plantations in Amherst and Louisa Counties … page 23
President's Column, by Patricia Lukas … page 24
P.S. Wouldn't you like to see your research published in this beautiful magazine? Send it to any of the CVGA officers on the About CVGA page.