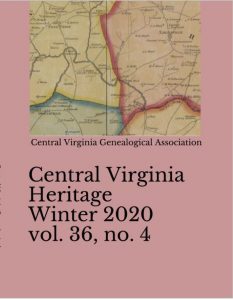 Don't Discard That Receipt: The Use of Ephemera in Genealogical Research, by Andi Cumbo-Floyd: "When I first began researching the people who were enslaved at the Bremo Plantations in Fluvanna County, I found myself buried in tiny slips of paper. Those little pieces of ephemera—a receipt from that trip to buy seed from that man in Tidewater, that ledger page from the store in Scottsville, the random notes about the cost of burlap—were everywhere in the 195 boxes of the Cocke Family Papers at the Small Special Collections Library.
My first instinct was to dismiss these pieces in the interest of efficiency and because, honestly, I didn't care one hoot how much burlap cost. But when I began looking more closely, I started to find names of enslaved people on some of these pages. I learned that Phil and Billy were the postilions who traveled with their master most everywhere. I saw on a list of charges from the doctor that Champion was treated for "rheumatism" on more than one occasion. I see that Letty was put under the charge of the master's gardener…"
To see the rest of this article, CVGA members should go to "Members Only" on the menu bar above, and choose "Central Virginia Heritage — Current Issue." (Note: You have to be logged in to this website in order to see "Members Only.")
If you have trouble logging in to the site to download your copy, please contact me at the webmaster link at the bottom of this page.
For those who are not members of CVGA, we offer the opportunity to purchase a printed copy of each issue. The Winter 2020 issue is available from Amazon.com at https://www.amazon.com/Central-Virginia-Heritage-Winter-2020/dp/B08QKY2YD7 for $6.50. Click on the Amazon.com link above or search for "Central Virginia Heritage" on Amazon.com.
Contents of the Winter 2020 issue:
Don't Discard That Receipt: The Use of Ephemera in Genealogical Research, by Andi Cumbo-Floyd
African-American Men in the 1867 Fluvanna County (VA) Personal Property Tax Books, Part 3, R-Z, by Sam Towler
List of Virginia Cohabitation Registers and Marriage Lists Available Online, by Jean L. Cooper
Connecting Pre-1865 Enslaved Families With Entries in the U.S. Federal Census of 1870: A Case Study, by Jean L. Cooper
Social Security Numbers, by Diane Inman
Finding the Fallen, by Diane Inman
Archer Family of Powhatan County, Virginia, by Jean L. Cooper
Message from the Present
Obituaries: George Edward Vandenhoff Jr. and Sylvia Louise Jones
If you have any articles you'd like to share with CVGA members, please send an email to the editor, eleanordew at gmail dot com — The Editor.